"Hopes for the Future"
G1's theme music, written by pianist and composer Mr. Takashi Matsunaga, is downloadable here.
 Profile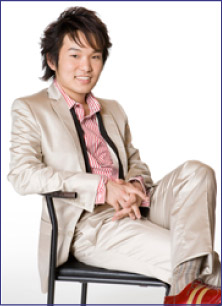 Mr. Takashi Matsunaga, Pianist & Composer
Mr. Matsunaga made his debut at the age of 17 with the album "Takashi." Through his performance with Herbie Hancock at "Tokyo Jazz 2003," he became a world-renowned musician. In 2004, he released the album "Storm Zone" in the US, Europe and Asia as the youngest artist in 75 years to lead an album-recording under the renowned "Blue Note" label, setting a new record replacing Miles Davis. Mr. Matsunaga has written several pieces of theme music for various TV news programs in Japan, including "Hodo (News) Station" (TV Asahi Corporation), "Shin Hodo (New Press) 2001," "FNN SuperNews" (Fuji Television Network, Inc.), and "Gekiron! Crossfire" (BS Asahi); and music for TV commercials. Further, in 2009 Mr. Matsunaga held the first jazz concert in front of the Crown Prince of Japan and Princess Aiko. He became the youngest member of the Japanese Society for Rights of Authors, Composers and Publishers (JASRAC) in 2012 when he was in his 20s. Further, in 2013, Mr. Matsunaga was invited to the SNBA (Société Nationale des Beaux Arts) prize winners' concert in the Louvre Museum in Paris and played the piano. With his excellent sense of rhythm and brilliant pianism, he maintains a reputation as an internationally acclaimed artist.